Employee Coaching Brings a Boom To Business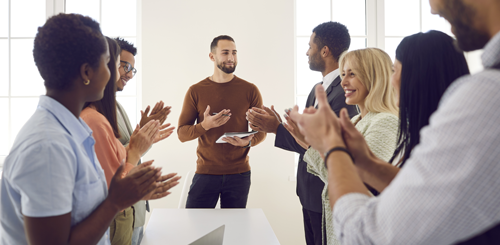 Allow me to let you in on a little secret: Employee coaching gives your business a competitive edge. I share this with you based on firsthand experience, as I have helped numerous organizations become more effective and efficient. Savvy managers and executives who play the "long game" understand that investing in their people now pays compounded dividends later on down the road…
What exactly is coaching for employees?
Simply put, it's a way for employees to benefit from the guidance of an experienced mentor in order to reach their peak performance. Believe it or not, said mentor should not be your manager. There's a difference between effective management and quality coaching. Managers know how to lead the team; however, they usually are not able to offer the type of coaching necessary to affect real change in the organization.
Managers play a vital role in spearheading their teams. Coaching helps managers become more effective in their role while also keeping the lines of communication open while promoting collaboration. Everyone from the CEO to the intern can benefit from coaching.
Are You Ready to Unlock Your Potential?
Schedule your complimentary half-hour design session today!
Schedule an Appointment
Why should I make an investment in employee coaching?
Your employees are your greatest asset. Shouldn't they be at the top of their game? Coaching for employees enables them lean-in to their strengths while developing an action plan for areas in which they may not be as strong. It gives the entire team the chance to develop a symbiotic relationship where everyone contributes a unique skill set.
Professional team-building opportunities are available in addition to one-on-one coaching services. Even the most well-oiled team machines reap the benefits of a tune-up. An analysis of your team's efficacy starts the process.
Let me help you create your best company.
If you are interested in becoming the best of the best, I can help you get there. I combine extensive experience with a tailored approach which caters to the culture of your company.
I'm available for local in-person work with your team within the Vancouver area. I'm also available via Zoom for consultations and coaching/consulting with you wherever you may be in the world! Call me today for your FREE, no-obligation consultation at (360) 836-0391.