Professional Team Building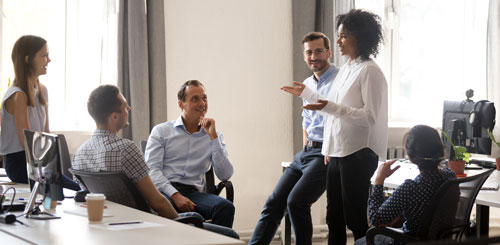 Perhaps you are considering seeking the services of a career coach to conduct professional team-building activities with your employees, but are not sure what to expect for the return of your investment. "How can team-building activities help my company?" you may be asking. "What is the value added, and what are the skills and tools my team can acquire from working with one?"
As a trained and certificated professional coach, I can tell you the benefits are numerous, and the following are just a few of them. Keep in mind that a quality coach will tailor their approach for each client, according to their specific needs.
Resolving Interpersonal Issues
Professional team building can be an effective way to strengthen interpersonal relationships on any team. Sometimes one or several individual's personalities, communication style, body language, or even leadership styles can rub others the wrong way. By addressing the behaviors and empowering employees to make changes from a strengths-based approach, team members can improve their own effectiveness, as well as the effectiveness of other employees.
A highly trained, quality executive coach utilizes various tools and exercises to accomplish this, such as Assumptions, Empathy, Powerful Relationships, Bird's-Eye-View, and Perspectives.
Are You Ready to Unlock Your Potential?
Schedule your complimentary half-hour design session today!
Schedule an Appointment
Strengths-Based Assessments and Employee Personality Tests
A high-quality team-building coach will help your employees discover, recognize, and apply personal and professional attributes to a given situation. Examples of this may include increasing a group of employees' awareness of values, motivations, systems, and assumptions. Using a personality assessment during office Team Building training can open the door to empowering them to use the tool as a means for self-growth.
For example, an employee may identify strongly with tendencies toward helping others. This knowledge can be leveraged to help him or her to explore related attributes, such as communication styles, leadership styles, and suggested exercises to counterbalance potential pitfalls. Personality tests can also be a great way to help employees and teams identify longer-term pathways to success within the company, increasing retention by limiting turnover. If you're interested in learning more about team building, contact me. I serve clients in Vancouver WA and around the world!