Presentation Skills Training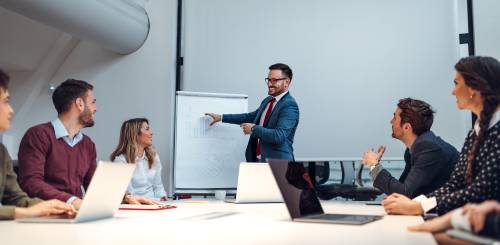 Are you one of the 75% of adults who gets nervous at the prospect of public speaking? You are not alone. The majority of the population dreads standing before a group to speak.
My name is Chuck Sheron, and I am the founder of Reimagine Success Coaching. I'm a Certified Executive Coach in Vancouver, Washington. Let me help you overcome your fear of public speaking. I won't just help you diminish your fear – I'll help you gain confidence by teaching you the skills, strategies, and methods you need to become the speaker you would like to be.
More than just public speaking, this is also presentation training
As you probably know, there's more to an effective presentation than just your speech. I'll teach you how to convey confidence and engage your audience instantaneously through the effective use of body language, pacing, and delivery.
Furthermore, I want to help you for the times where you may be put on the spot to offer an important opinion or give a mini-presentation. These are not times you should fear, but opportunities to lean-into delivering a message, connecting with your audience, and gaining valuable experience as a public speaker.
Are You Ready to Unlock Your Potential?
Schedule your complimentary half-hour design session today!
Schedule an Appointment
Industries that benefit from presentation skills training
Anyone within any industry benefits from public speaking and presentation skills training. Even those who aren't apprehensive about speaking publicly benefit from expanding their skillset through strategies that have been proven to be highly effective. Here are some examples of the clients with whom I work:
Managers
Researchers
Executives
Political/Public Officials
Newly-Promoted Employees
I want to partner with you as your public speaking coach
Years of experience, combined with my track record of success, make me the perfect fit to help you be your best public speaker and presenter. Best of all, as a Certified Executive Coach, I can also assist in other areas related to your profession – including leadership development, business coaching, work/life balance, and career advancement.
Are you ready to replace fear with confidence in the area of public speaking? Are you interested in learning more about what a partnership with me could look like? Call me today for your FREE, no-obligation consultation at (360) 836-0391. I can help you with your public speaking skills wherever you live!